The March project for the
Little Things To Sew-Along (LTTSA) at a little grey
is either the Explorer Vest or the Red Riding Hood. I still do owe my older daughter a cape, and maybe I'll get it done if my machine cooperates, but I was determined to make the Explorer Vest for my little guy's 4th birthday!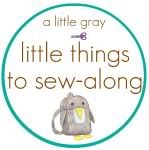 My sewing machine has been misbehaving for most of 2012 it seems, and trips for repair seem to have it coming back even worse! I'll take it back in soon, but somehow it sews just fine on multiple layers of heavy fabric still. So, I took advantage of that and whipped up and Explorer Vest!
I was a bit nervous about the pocket bellows, but I really wanted them. There was nothing to be afraid of! It was so simple I felt silly for not trying it earlier!
I used a lightweight canvas for the outside and a fun construction truck print, Michael Miller Tot Town Dig It, for the inside. Kona solid for the bias tape around the armholes. The buttons are just decorative. I sewed Velcro squares on so it would be easier for my little guy to put on.
My little guy agreed to wear it only briefly, but I think it's really cute on him!
We made a deal that he'd wear it and sit for a photo if he could take a picture with my big camera. I love how the vest makes him look like a tiny photographer!
Head over to
a little grey
and see all the projects linked up from the sew along!